Black Lake and Nevidio Canyon - relaxation and adventure
Black Lake
If you are looking for a real adventure, wild waterfalls of the Nevidio canyon and also the calm and mysterious waters of Black Lake.
Three kilometers southwest of Zabljak, with which it is onnected by an asphalt road, is Black Lake, the largest and most famous lake in Durmitor and the second largest mountain lake in Montenegro. Black Lake is the most recognizable element of the entire Žabljak area, and also one of the most famous natural beauties of Montenegro. It is located below the mountain top of Medjed, as a guardian and protector, and is covered with thick conifers, which together with Medjed are reflected in its blue-green depths.
When the snow begins to melt, a strong spring of Celina erupts beneath it, crashing noisily into white waterfalls into a lake made up of two bodies of water. Small and Large Lakes, which are separated by a narrow surface of the mainland, called the "riverbed" make up the Black Lake located at an altitude of 1418 meters. The small lake is 49.1 meters deep and the large one 24.5 meters. The water temperature in summer exceeds 22 degrees, so during the hot summer months, this lake is a real paradise for swimmers.
However, Black Lake is an excellent choice in May, whether you are in a family environment or want to spend pleasant moments with a loved one, so we warmly recommend a relaxing walk around the lake.
Everything that could be written about the fairytale beauty of the Nevidio canyon is small compared to the experience it provides for those who embark on an adventure.
Nevidio Canyon
The most hidden part of Montenegrin beauty is the Nevidio canyon or Neviđbog, as the locals call it. He did not see the Komarnica canyon, which reveals its charms only to those who are ready to spend a few hours in water with a temperature of around seven degrees Celsius, cross slippery rocks, jump from rocks a few meters high into whirlpools or descend through them with ropes.
Everything that could be written about the fairytale beauty of the Nevidio canyon, its mystery, the clear Komarnica, its rapids, waterfalls, is small compared to the experience that gives all this to those who embark on an adventure.
Nevidio Canyon is a part of Mala Komarnica that springs at the foot of the southern part of Durmitor, in Dobro dol. The sinking passages between Boljske grede 2091 m above sea level and Lojanika 2091 m above sea level to reappear in the gentle river valley as a permanent river.
At the very end of the valley begins the canyon of Nevidio. Making it, Komarnica dug a three and a half kilometer long notch in the rock, which is up to three hundred and fifty meters deep. In some places the width of the canyon is less than half a meter.
For a long time, its inaccessible terrain completely hid it from people and aroused attention and curiosity.
Despite being the last canyon conquered in Europe, most eager adrenaline adventurers are now flocking to Nevidio, and it awaits unchanged.
Source: Vijesti
Cover photo: Wikimedia
Climbing in Zabljak: Check out 27 reviews and photos of Viator's Nevidio Canyoning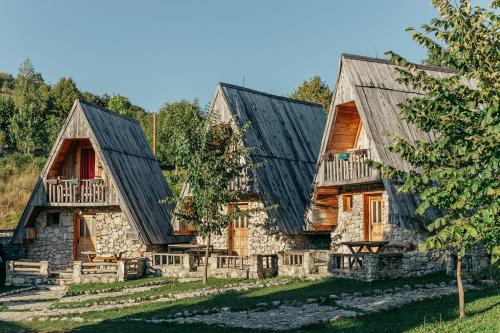 Featuring a spacious garden, Ethno Village Nevidio offers self-catering bungalows in Pošćenje. The property offers views over the lake.
Stay Informed
When you subscribe to the blog, we will send you an e-mail when there are new updates on the site so you wouldn't miss them.
Comments
No comments made yet. Be the first to submit a comment